We're excited to offer reclaimed building material salvaged from the historic "Spruce Goose Hangar" in Playa Vista. The 319,000 square foot building was the location where Howard Hughes built the infamous H-4 Hercules plane aka the "Spruce Goose". The plane still holds the record for the largest wooden plane ever constructed and flown – if only for one short flight in 1947.
The Spruce Goose, constructed of birch wood and weighing 150 tons, was built to combat the sinking of Allied ships by Axis power submarines in the early years of World War 2. Originally proposed a fleet of 3 giant flying boats that could carry large amounts of supplies and manpower safely over the ocean, the project was viewed by many as unrealistic as the planes were designed to be so massive and heavy. The deadline passed for the construction of the 3 planes and a contract was renegotiated for the construction of one plane under the name H-4 Hercules.
While the plane was not completed until one year after the war had ended, and was taken on one short flight, the "Spruce Goose" is credited with helping to advance aviation technology via its construction process and advanced electronics.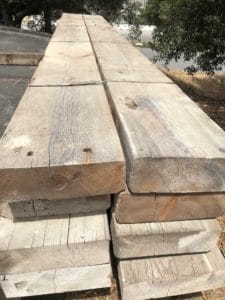 The historic hangar housed the "Spruce Goose" for several decades before the plane was disassembled and moved to be displayed in Oregon. The original hangar has now undergone some renovations for a new use. During renovations, a portion of the timber framing was removed yielding beautiful, rough sawn 6x18x20, 4x12x20, and 4x16x20 lumber. More than 60 of these reclaimed beams will be used to fabricate heavy timber benches, by Vintage Timberworks, that will be displayed in the front courtyard area of the renovated hangar. The remaining 60,000 board feet of reclaimed timbers is now located at Vintage Timberworks in Temecula, California and is ready for its next home in your project.